Carmen Edith Glabe Reigel
14 Apr 1908 - 2 Nov 2005
She was born April 14, 1908 in Chafee, Missouri, where her father was working for a railroad. She was the first child of William Frederich Glabe and Estella Pearl Watson.
Where did a good German boy and a good English girl come up with the name Carmen? We don't know, we even asked her, and she said she didn't know. But it seems to me like a good name for her – it seems a bit exotic, and reflecting a certain zest for life. That would be her.
Edith is more straightforward. That was for a her mother's younger sister. She went by Edith for a time, and members of the family in Peoria still used that name on Christmas cards many years later. But to most of the world she was known as Carmen.
Soon after her birth the family moved back "home," to Peoria. There they had two more daughters, and her father became the auditor for a large hotel there. They had a home in a nice residential neighborhood, close to relatives. She grew up very much a "city girl" (Peoria's population was around 100,000). But they did occasionally cross the river and go into the countryside to visit her paternal grandparents. She later recalled that when she attended church there the services were in German.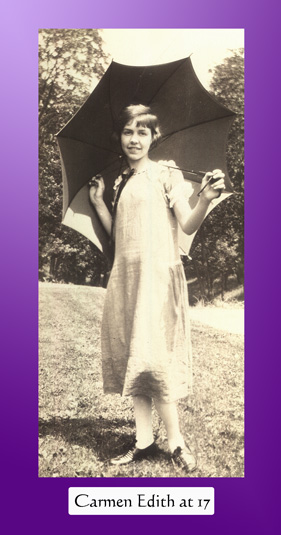 While she was in high school, she learned to drive her Uncle Edwin's car. No small feat, it would seem, as no doubt Uncle Edwin had a fine large example of mid-1920's automobile design, and she was a mere wisp of a girl, as the photo above shows. Aunt Min, her mother's oldest sister and self-appointed matriarch of the family, and Uncle Edwin had no children. He was involved in a number of businesses, and allowed her to drive him around town to his business appointments. She thought that was great, as her father, in the way of fathers, didn't let her drive his car. Driver's licenses were not required in Illinois at the time, though she did get one of the earliest ones issued when they were introduced.
Her mother died in 1924, when Carmen was 16. Her father remarried a year and a half later, to the woman I always knew as "Grandma Glabe."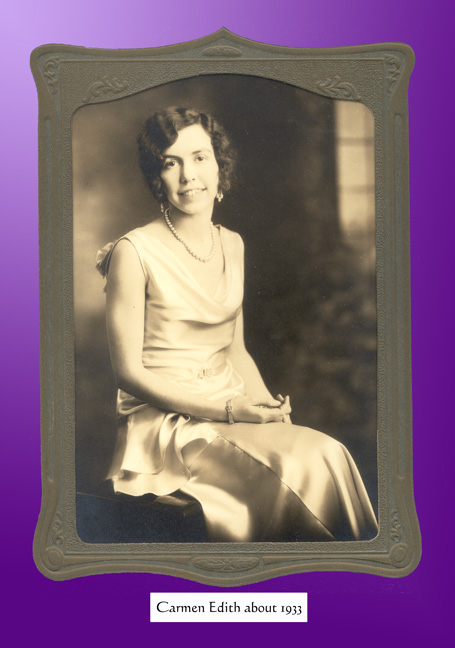 Carmen graduated from high school and then went to business school to learn secretarial and other office skills, an approved career path for progressive women of the time. She found a good job with a firm in town, and became active in a business women's sorority, even became it's president.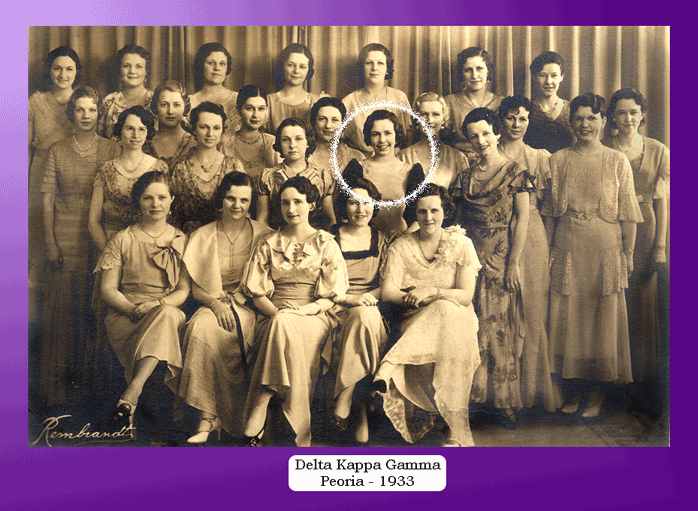 During the Depression her father lost his job with hotel, and decided to pursue an opportunity to start a cottage cheese business in Pasadena, California. While he was there, Carmen, her stepmother, and her youngest sister drove out to see him. Carmen was attracted to California by the glamor and romance associated with the state, especially Hollywood.
It would seem that her driving experience in America's heartland didn't prepare her for the mid-1930's roads across the Rocky Mountains. At one point, facing a narrow mountain road with a steep drop off the side, she stopped the car, got out, and told her stepmother that if they were going any further she would have to drive. Grandma did, and they completed their trip.
But the cottage cheese business failed, and Grandpa decided to pursue a tractor dealership with his brother-in-law in Chico, in the northern part of the state. He sold the house in Peoria and moved to Chico to start the business. For Carmen, the lure of California remained, and when her younger sister graduated from nursing training, they set off on an extended vacation there. Carmen took a leave of absence from her office job, and left an apparently serious boyfriend behind.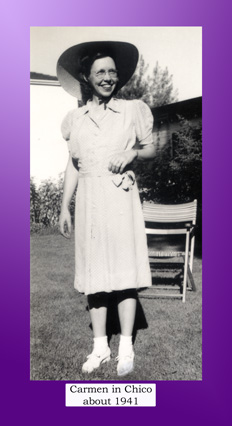 When she stopped by the tractor dealership, she checked out the fellows working in the service department. One, Vernon Howard Reigel, a young man from a farm in Washington, caught her eye. They went out a few times, then, when he was transferred to a new branch office in Willows, 35 miles away, they were married. Reno, Nevada then, as now, was a popular place for marriages, and they were married there with her family and a few friends December 29, 1940. She said he had only $100 to his name, and she had spent all her savings vacationing in California.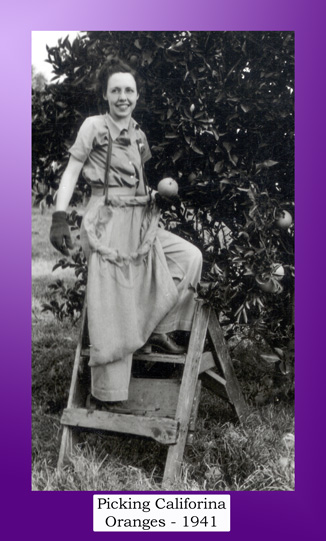 They weren't in Willows long. In June 1941 they bought a small house in Chico only a few blocks from her parent's home. Their first son, Terry, was born four months later.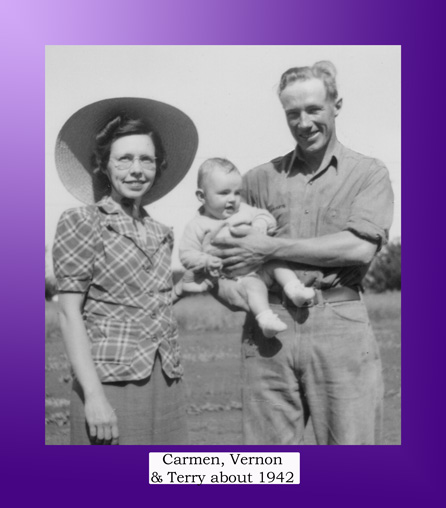 With the start of the War, Vernon took a job repairing aircraft at the Chico Army Airbase. But his farm roots called, and in April 1943 they bought a place with 5 acres near the airfield, where he continued to work. David was born that fall.
Her story later that every time she came home from the hospital after giving birth she found that the house had been sold was only a slight exaggeration. The birth of their third son, Frank, in 1945, was followed shortly by another move, back to town. But that was only a brief prelude to following Dad's real dream, an 80 acre farm six miles northwest of town, which they bought later that year. The birth of a daughter, Judy, in 1948, was accomplished without the sale of their home.
The farm prospered and grew. Vernon leased land from other landowners, and was known as the "sugar beet king" for a while because he had the largest acreage under contract with the local Holly Sugar factory. He diversified into other crops, for a number of years having over 1000 acres under cultivation. He was active in several farmers' organizations, and was elected to the school board. The early 1950's seem to have been particularly successful. In 1953 they completed a new 3,200 square-foot, five-bedroom, house and bought a new Lincoln and several trucks for the farm.
Carmen seemed to adapt to farm life, focusing on her children, being active in the schools, and helping with the farm books. Some aspects she wasn't fond of, like the 13-foot high wall of corn surrounding the house when he planted that crop. It closed off the views of the distant mountains, and worse, cut off what breezes there were to cool the hot summer days. She maintained her connection to the Methodist Church in town, especially the ladies' sewing circles, where all the mothers took their small children to the meetings.
Dark clouds were on the horizon, however. I don't suppose we will ever know exactly the cause. Several years of poor crops were apparently a factor. Perhaps a classic mid-life crisis, and too long lunches with the guys at the local watering hole, led to Dad moving out. Carmen continued to manage the farm books and tend the children. Then, in February 1963 he could no longer cope, and took his own life.
Mom was left with four children, the eldest about to finish college. None wanted to continue in farming, so she sold the equipment and leased the land to another farmer. Eventually she sold the land and bought a home in town, staying there until all of her children were out of college. Her care in wisely managing the sale of the farm property, attentive investment of the proceeds, and careful spending habits served her well. She managed to stretch her investments to support herself for over 40 years.
Carmen moved to the San Francisco Bay area where her children then lived. About this time, she discovered grandchildren! Our old toys came out of the closet - Bill Ding the wooden clowns, Lincoln Logs, miniature cowboys and Indians, and the play furniture her Father had made for Judy. She enjoyed visiting with her children and their families, and having the grandchildren at her house. They, of course, enjoyed visiting Grandma.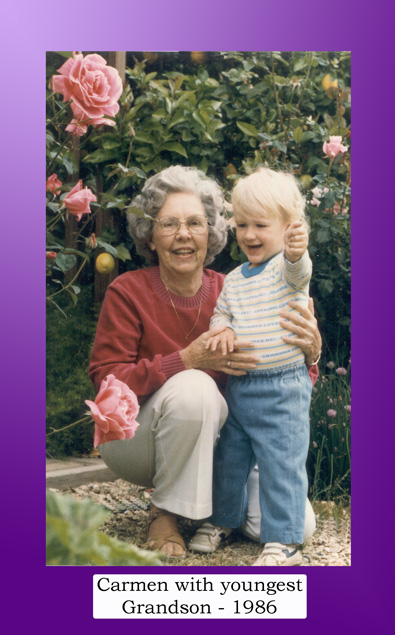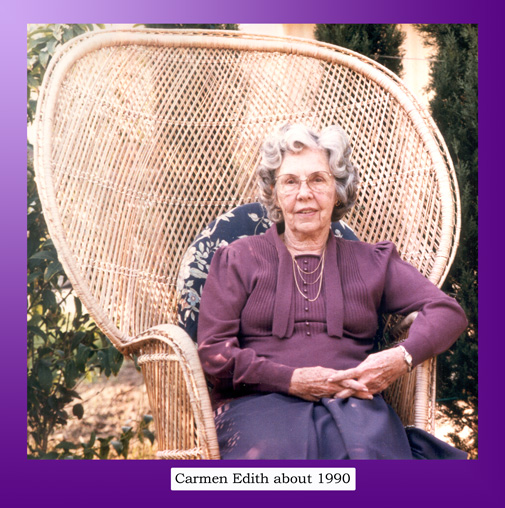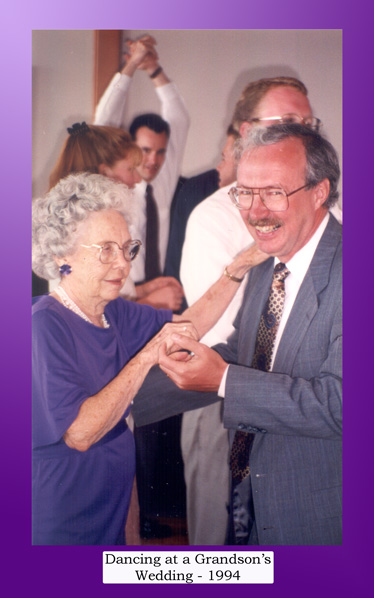 After we moved to New Jersey she visited for two or three weeks for a number of years. We took some time off to travel with her, but during much of those visits we were at work, leaving her at home watching the birds and other wildlife. We had different birds than in California, and each evening she gave us a full report. She especially enjoyed the Cardinals, with their brilliant red colors. She began to collect ceramic Cardinals, and any sort of picture, needlepoint, or whatever with Cardinals on it. But she was very fussy about what she collected. She had observed that real Cardinals have orange beaks. But it seems many artists failed to notice that - they created Cardinals with yellow beaks. None of them for her!
Perhaps her most amazing feat of bird observation occurred the day we came home to the report of a bird she had heard, but not seen. She had gone through our bird book, reading the descriptions of the calls of each species, until she found the one she had heard. We were skeptical that she have found the right one, until we too heard that bird. She was, of course, correct.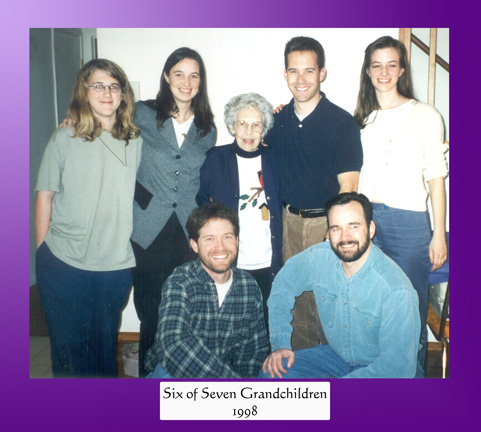 About ten years ago she fell and broke her hip. The surgery was not completely successful; she had pain when she walked, so she used a walker or a wheelchair. No longer able to live by herself, she moved in with Judy and her son in Davis, living there for a number of years. When her condition worsened, she moved in with Frank's family, where there were more hands to take care of her.
As her sight faded and her mobility diminished she found a new focus – great-grandchild! She was very proud of every one of them; seven of them living at her death. Now it was the grandchildren's turn to learn about being second-class citizens. She loved to have the young ones around, and enlisted help to shop for gifts for them for holidays.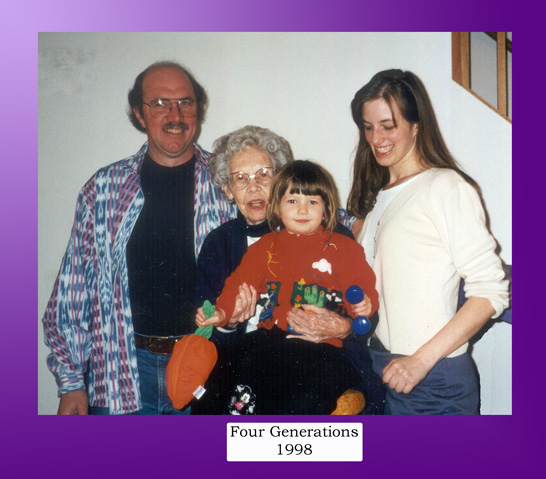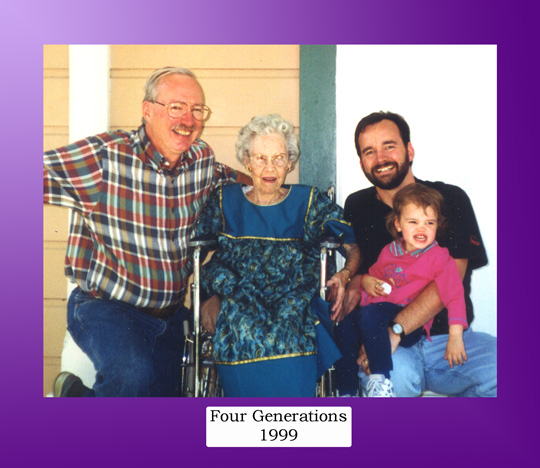 Finally, her physical condition required professional assistance, and she moved to a small private care facility a few minutes from Frank's home. She remained alert until her last days, enjoying visits from her family, and seemed to get a charge from the excitement in the household caused by the arrival of a monthly flowering plant.
She passed peacefully, with members of her family at her side, on November 2, 2005.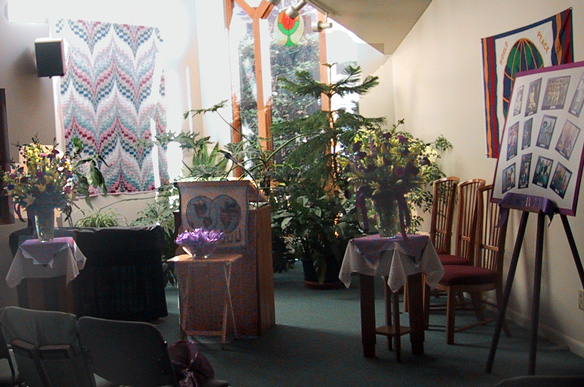 Memorial Service November 18, 2005
Boone Unitarian Church
Program
Carmen Edith Glabe Reigel

April 14, 1908
Chafee, Missouri

November 2, 2005
Sacramento, California

Mother of Four

Grandmother of Seven

Great Grandmother of Eight

When she was older she wore purple

Order of Service

| | |
| --- | --- |
| The Lark in the Clear Air | James Galway |
| Welcome | Nancy Reigel |
| Reflections | Ben Edwards |
| Mother's Story | Terry Reigel |
| Recollections | Members of the Family |
| Reflections | Ben Edwards |
| Spreading of the Purple | Jessica Reigel |
| Benediction | Rev. Edwin McKinney |

Please join the family for lunch and
fellowship after the service.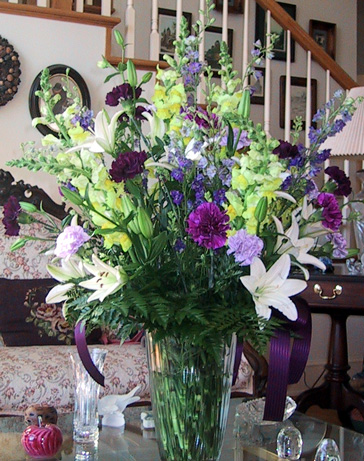 If the "Contact Us" link doesn't work for you, manually email this address:

Copyright 2000- by Terry Reigel